The 4th ACM Europe Summer School on Data Science will take place in Athens (10-14 July 2023), at the Panorama Hall of the Royal Olympic Hotel. All students and lecturers are also guaranteed accommodated in the Royal Olympic Hotel.
The Royal Olympic Hotel lays just in front of the famous Temple of Zeus and National Garden. It is underneath the Acropolis and only 2 minutes walk to the new Acropolis Museum. After its complete renovation that finished in 2009, the Royal Olympic was transformed to an art hotel very elegantly decorated and more important very well looked after in every detail. The Roof Garden Restaurant – Bar opened recently offering the ultimate dinning and wining experience in front of the most spectacular view in Athens.
Panorama Hall
One of the most beautiful Meeting & Banqueting Halls in the world! It is at the hotel's top floor, just opposite the Temple of Zeus, and the National Gardens. the Acropolis, Hadrian's Arch, the Ancient Stadium, the Parliament and the Lycabetus Hill are all in front of you! Its unique character and its impressive decor are in perfect harmony with this indescribable view!
From the Airport:
The distance from the airport is about 35 kms and there is comfortable, affordable and reliable ground transfer from and to the airport.
Explore Athens
Photo Credits: @This is Athens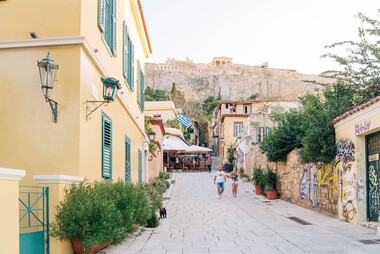 Why Athens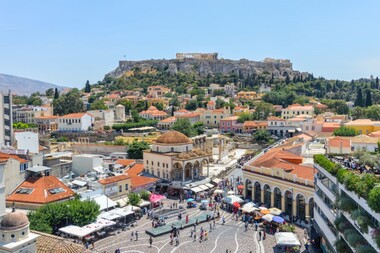 What could be a better fit than the city that gave birth to symposia? Those hospitable gatherings of the mind where innovative ideas were traded by ancient thinkers and memorable experiences were shared. As a historic world capital and vibrant knowledge hub, the innate spirit of Plato's Symposium still burns brightly in Athens today, making for spirited and fruitful international meetings and exciting events. Athens has built upon its proud intellectual legacy to emerge as an agile modern city with a forward thinking heritage that delivers a safe, resilient, sustainable and socially responsible destination for residents and visitors alike.
Sightseeing
There is a number of magnificent historical sites worth visiting very near to the Royal Olympic Hotel (walking distance): Acropolis Museum 300m | The temple of Zeus 300m | Roman Agora 1km| Acropolis of Athens 1,2km
Source: Visit Greece | Athens
Useful Links and Guides
Mobile Apps
FREENOW an easy way to find wherever you are a taxi (yellow cabs) and reach your destination safely. Payments are made with card, no cash needed.
Uber another easy way to get your local taxi (yellow cabs). You will get a safe ride and you may pay with card.
Public Transportation Real-time information for busses & trolleys
Wolt food delivery app
e-table make reservations online and earn discounts
---
Food and entertainment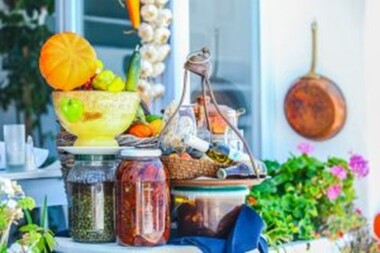 Greek cuisine has four secrets: fresh ingredients of good quality, proper use of herbs and spices, the famous Greek olive oil and its basic simplicity. Greek olive oil deserves a special mention. Present in almost all Greek dishes, and in most of them in abundant quantities, it is of excellent quality and very nutritious.
Local flavours of the Greek Cuisine 
Close to the Hotel (Koukaki and Plaka area)
Mani Mani restaurant, traditional dishes with a twist (10 ,Falirou str)
Fabrika tou Efrosynou modern Greek tavern (34, Zini Anast str)
Bel rey all-day coffee/bar and snacks, juices (88, Falirou str)
Kinono all-day coffee/bar and snacks (48, Falirou str)
BoBo wine bar (36, Anast. Zini str)
Kalivas souvlaki (10, G. Olympiou str)
Skoumbri  fish tavern (12, Drakou str)
Takis bakery (14, Misaraliotou str)
Monsieur Barbu all day bar, coffee & snacks (49, Mark. Mpotsari str)
Café Valparaiso all day bar (7, G. Olympiou str)
Aglio Olio & Pepperoncino Italian restaurant (13 Porinou str)
Tiki Athens cocktail bar (15, Falirou str)
Klepsidra cafe all-day coffee & snacks (9, Thrasivoulou str)
Yasemi all-day snacks and coffee (23, Mnisikleous str)
Brettos  bar indoors (41, Kidathineon str)
Materia Prima wine bar (68, Falirou str)
Tuk Tuk Thai Restaurant (40, Veikou str)
Indian Haveli, Indian Restaurant (15, Drakou str)
Kalamaki Bar, Souvlaki (12, Leof. Andrea Siggrou str)
Terraces and gardens in the city center
Seaside
Walks
Walks to various places in Athens, museums, neighbourhoods, but also shopping, bars/cafes, etc. may be found here
---
Cultural Life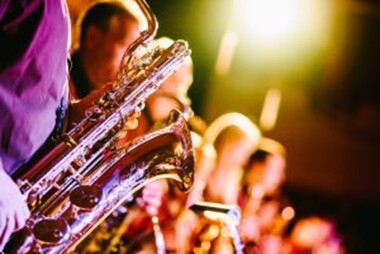 Athens is the city of ideas. Some of humanity's most exciting ideas were born in Athens. In terms of cultural life, Athens is a unique case internationally. It is probably the only place in the world where you can discover a city more than 2.500 years old integrated into a contemporary metropolis.
This exceptional past is coupled with a vibrant contemporary cultural life full of highly acclaimed events all year round. To make things even better, Athens offers a lively and vibrant nightlife with a wide variety of bars, clubs and restaurants.
And let's not forget that Athens is the city of olive trees, wine, honey and various herbs such as oregano, basil and thyme – an opportunity to taste the highly distinguished Mediterranean cuisine.
Athens Events Calendar 
Cultural Events and Music Festivals in Greece
Athens is famous for its vibrant nightlife. The Athenians like to party and will do so almost every night of the week. The choices are plenty and they appeal to all tastes and lifestyles. In general, things get started pretty late; after midnight for bars and clubs and after 10pm for dinner at the city's tavernas, restaurants and bar – restaurants. In Greece, life is for living and leaving your worries behind. The result is a good – hearted, energetic city with bars and restaurants to match. Hip areas include Gazi, Psirri, Metaxourgio, Monastiraki, Theseion and Kolonaki. Traditional Greek evenings can be spent in Plaka.
Landmarks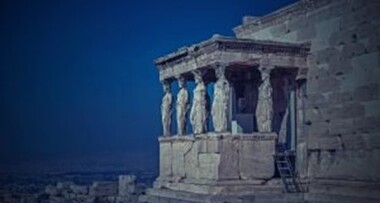 The establishment of Athens as a city dates back to mythological times. The city's history is still evident throughout Athens in the form of many Ancient, Roman, Byzantine and modern monuments.
Today's capital integrates the ancient and medieval history into the contemporary era. Monuments can be found all around the city center, side by side with contemporary constructions such as buildings, roads and train stations.
Acropolis
The Parthenon, a monument that constitutes the symbol of Greece worldwide, has been standing on the "sacred rock" of Athens, the Acropolis, for thousands of years. The Parthenon along with the other monuments of the Acropolis, are all excellent pieces of art, reflecting the Classical period and the Golden Age of ancient Athens in the 5th and 4th centuries B.C.

The Acropolis Museum
Designed by Bernard Tchumi in collaboration with Michalis Photiadis; the sparkling new museum, since its opening in June 2009, has already become the city's top attraction and is expected to become one of the most visited and "must see" museums worldwide. The museum, which exhibits approximately 4.000 artefacts, allows the sculptures to be viewed in natural light, with special glass and climate-control measures, protecting them from sunlight. The most impressive part of the museum is its top floor, where visitors will be able to view the frieze and then look out of the windows to view the Parthenon itself.

Odeon of Herodes Atticus
At the footsteps of the Acropolis, the Odeon was built in 161 A.D. under Tiberius Claudius Atticus Herodes. To date concerts, plays and ballets have been performed. The natural setting of Herodeion, with its marvelous arcades, the Parthenon as a backdrop and the moon up in the sky will certainly fascinate you.

Ancient Agora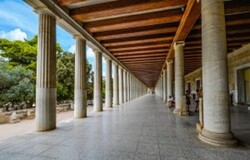 Agora, which means "market" in modern Greek, is situated at the footsteps of the Acropolis and in ancient times it served as the commercial centre of the city but also as a political, cultural and religious centre.
Panathinaikon Stadium
Originally built in the 4th century B.C. for the athletic competitions of the Great Panathinaia (ancient Greek festivities), the "Kallimarmaron" Stadium (meaning "beautiful marble") was the venue of the first modern Olympic Games, in 1896.
National Archaeological Museum of Athens
The National Archaeological Museum of Athens is the largest in Greece and one of the most important museums in the world devoted to ancient Greek art. It was founded at the end of the 19th century to house and protect antiquities from all over Greece, thus displaying their historical, cultural and artistic value.
Byzantine & Christian Museum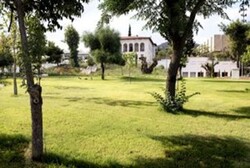 The Byzantine and Christian Museum, which is based in Athens, is one of Greece's national museums. Its areas of competency are centred on – but not limited to – religious artefacts of the Early Christian, Byzantine, Medieval, post-Byzantine and later periods. The Museum has over 25.000 artifacts in its possession, which date from between the 3rd and 20th Century A.D.

The Museum of Cycladic Art is dedicated to the study and promotion of ancient cultures of the Aegean and Cyprus, with special emphasis on Cycladic Art of the 3rd millennium BC.
It was founded in 1986, to house the collection
of Nicholas and Dolly Goulandris, an extensive and unique private collection of prehistoric art from the Cycladic islands as well as ancient Greece.

Benaki Museum
The Benaki Museum ranks among the major institutions that have enriched the material assets of the Greek state. It houses
30.000 items illustrating the character of the Greek world through a spectacular historical panorama covering several periods
ranging from the Prehistoric, Ancient and Roman periods to the Byzantine and the contemporary Hellenic period.

Hellenic Cosmos Cultural Center of the Foundation of Hellenic World
A living museum, an ultramodern cultural center, where visitors can learn about history, culture and sciences through interactive exhibitions, educational programs, virtual reality shows and documentaries.
Useful Information
| | |
| --- | --- |
| Language | The native language of the population is Modern Greek. English is widely spoken as a second language by the majority of Greeks, while French and German are also spoken to a good extent. |
| Time | Greece is two hours ahead of Greenwich Mean Time, seven hours ahead of Eastern Standard Time and an hour ahead of Central European Time. |
| Health | Emergency treatment is free to all visitors in public hospitals. There are more doctors per person in Greece than in most other countries in the European Union. |
| Currency | Greece is a full member of the European Union since 1981, and its currency is the Euro (€). All major credit cards are widely accepted in Greece. |
| Visa information | Greece follows the Schengen Agreement provision and the subsequent acquis concerning short term visa issues stays up to three (3) months in the Schengen area. Holders of regular passports from the rest of the world need a visa in order to visit Greece (and the Schengen area). The local PCO will provide invitation letters to all participants for VISA purposes. |
*Content partly by This is Athens Convention & Visitors Bureau