DOWNLOAD THE PRINT VERSION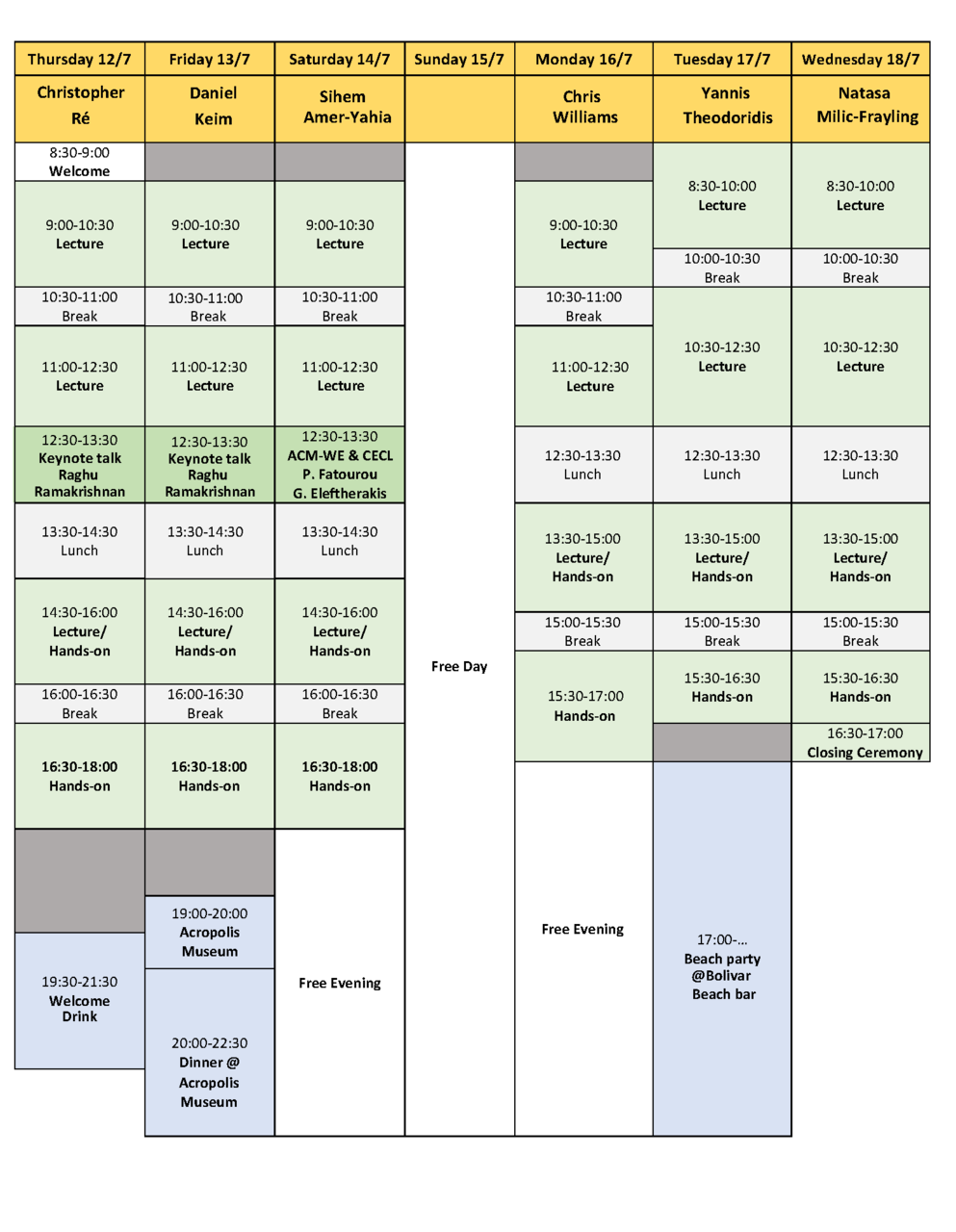 Keynote Lectures
Raghu Ramakrishnan, is CTO for Data at Microsoft | Managing All Data, Everywhere–Intelligently, Responsibly
Day 1: The Evolving Data and Analytics Landscape
Day 2: Evolving the DBMS to Meet the Challenge
ACM-WE and Committee of European Chapter Leaders (CECL) Speakers
George Eleftherakis, Associate Professor in Computer Science, University of Sheffield International Faculty, CITY College
Panagiota Fatourou, Associate Professor, University of Crete & Foundation for Research and Technology
Day Courses

Thursday, 12 July 2018
Christopher Ré (Stanford) is an Associate Professor affiliated with DAWN, Statistical Machine Learning Group, PPL, and SAIL (bio).
Weak supervision for data extraction, data cleaning, and machine learning

Friday, 13 July 2018
Daniel A. Keim (Konstanz) is Professor and Head of the Information Visualization and Data Analysis Research Group in the Computer Science Department of the University of Konstanz, Germany.
The Power of Visual Analytics: Unlocking the Value of Big Data

Saturday, 14 July 2018
Sihem Amer-Yahia (Grenoble) is a Research Director at LIG in Grenoble.

Monday, 16 July 2018
Chris Williams (Edinbourgh) is Professor of Machine Learning in the School of Informatics, University of Edinburgh, and University Liaison Director for the Alan Turing Institute.
Time Series Understanding, and data quality

Tuesday 17 July 2018
Yannis Theodoridis (Pireaus) is Professor of Data Science at the Department of Informatics, University of Piraeus, Greece.
Learning from our movements – Mobility data analytics

Wednesday 18 July 2018
Natasa Milic-Frayling (Nottingham) Professor and Chair of Data Science at the School of Computer Science, University of Nottingham.