European ACM Chapters
There are approximately 90 ACM Professional and Student Chapters across Europe. Each of these chapters has a series of technical events that will provide both interesting technical content and career networking opportunities.
Go to Top
Show Virtual Chapters
---
Virtual Chapters
3 Active Chapters
Metaverse ACM SIGCHI Chapter
SIGHPC Systems Professionals ACM Chapter
SIGHPC Education ACM Chapter
People of ACM Interview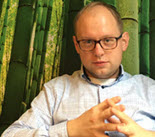 Paweł Woźniak is an Associate Professor at Chalmers University of Technology in Gothenburg, Sweden. His research focuses on human-computer interaction (HCI). He is particularly interested in HCI for sports, designing technology for wellbeing and examining how interactive technologies can support reproducible science. Woźniak is the Chair of the ACM Poland SIGCHI Chapter.