ACM Europe Research Visibility Working Group (ACM Europe RAISE)
The ACM Europe Research Visibility Working Group (ACM Europe RAISE) was established by the ACM Europe Council in Spring 2021. Its mission is to achieve greater visibility of the European research and ensure a higher degree of recognition for the achievements of European Researchers within the scope of ACM.
Goals
Increase visibility of European research excellence.
Promote Europe-centric events.
Work with the ACM Management and collaborate with the SIGs to make Europe more visible to ACM and ACM more visible to Europe.
Increase awareness about existing opportunities for recognition of the work of European researchers through the ACM programmes and activities and promote the participation of European researchers in such activities.
Create new opportunities for recognition of the work of European researchers.
In all the above goals, inclusiveness (in terms of gender, ethnicity, color or race, etc.) is a dimension of high priority.
Members (in alphabetic order)
Rosa M. Badia, Barcelona Supercomputing Center, Spain
Michel Beaudouin-Lafon, Université Paris-Saclay, France
Liliana Dobrica, University Politechnica of Bucharest, Romania
Panagiota Fatourou, FORTH and University of Crete, Greece (Chair)
Valerie Issarny, Inria, France
Georgia Koutrika, Athena Research Center, Greece
Christian Pilato, Politecnico di Milano, Italy (Secretary)
Alejandro Saucedo, The Institute for Ethical AI, UK
Marc Shapiro, Sorbonne-Université and Inria, France
Per Stenstrom, Chalmers University of Technology, Sweden (Liaison with the ACM Europe Fellows Work Group)
Sabine Susstrünk, Ecole Polytechnique Fédérale de Lausanne, Switzerland
Events and Activity
ACM Europe RAISE is organizing a webinar, entitled "Getting Recognized by ACM Awards and Honors," which take place on October 1, 2021 as an online event. The webinar aims at motivating Europeans (members of ACM or not) to claim the recognition they deserve for their professional achievements through the ACM Awards and Member Grades programmes. The webinar has also as its goal to receive feedback from the participants on how the goal of increasing the number of Europeans who are nominated for the ACM Awards and Member Grades, can be best accomplished.
The members of ACM Europe RAISE are currently working on preparing a document describing a strategy for achieving the working group's goals. For each of the five goals, there is a working team aiming at achieving the goal. The working teams lead on various relevant activities. Members are expected to assist in the planning, organization, and dissemination of such activities.
Volunteering Opportunities
We welcome expressions of interest from all European members, whether they are early career or established. If you would like to get involved with any of the working teams, please contact the chair (faturu@csd.uoc.gr) with a brief CV and statement of interest. All applications will be reviewed by the members of Europe RAISE.
We also invite Europeans to share your success stories with us, contribute to our activities, let us know your expectations from ACM Europe RAISE, and send us comments and suggestions regarding our activities.
Contact Person
Panagiota Fatourou
Chair of the ACM Europe Council
Email: faturu@csd.uoc.gr
ACM Europe RAISE Supports Greek ACM-W Chapter Winter School
The Greek ACM-W Chapter, with the support of the ACM Europe Research Visibility working group, is organizing a winter school to be held annually. The goal of the school is to offer senior undergraduate, graduate and PhD students, early-stage researchers and professionals in computer science the opportunity to learn about timely topics from top scientists from around the world. The inaugural winter school will focus on "Fairness in AI" and will take place online February 24-25, 2022. For more information, visit https://gec-ws.athenarc.gr/.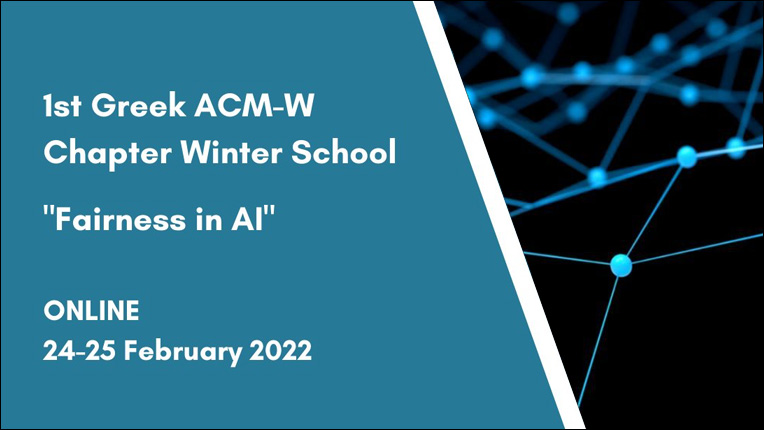 On 1 October, the ACM Europe Council organized a webinar, "Getting Recognized by ACM Awards and Honors," about how to prepare successful nominations for the ACM Awards and Advanced Member Grades. The webinar featured an open discussion with ACM President Gabriele Kotsis, ACM Europe Council Chair Panagiota Fatourou, and members of the ACM Awards and Advanced Member Grades Committees.