ACM-W Europe Newsletter
May 2015
Scholarship deadline for ACM-W Europe womENcourage 2015 is May 20th!
Apply NOW for a scholarship to ACM-W Europe womENcourage 2015 Celebration of Women in Computing.
Scholarships are available to students studying at a European university to attend womENcourage 2015 thanks to our very generous supporters. Inria, Google, Oracle, Cisco, Bloomberg, Facebook, Microsoft Research, Informatics Europe and Intel .
Apply now here.
Early Bird Registration for ACM-W Europe womENcourage 2015 is open! Register now.
To register for ACM-W Europe womENcourage 2015 follow this link.
Register to make sure you get a spot at womENcourage 2015 Celebration of women in computing, join us for the Career Fair, Workshops, Panels, Papers and the entire program.
-- Early Bird Registration ends on June 15 ---- register now and save money!
Register for the first ACM-W and Codess hackathon - its FREE
Make something that will improve the world for someone less fortunate than you. ACM-W Europe and Codess Hackathon sponsored by Intel® and Microsoft will be held in Uppsala, Sweden on September 24th 2015, in conjunction with womENcourage 2015 celebration of women in computing. The challenge is to build innovative and exciting projects which improve the day to day lives of people using the Intel® Edison Development Board and the Intel IOT DevKit. Your resulting project could be anything that will help humanity.
All you need to bring for the hackathon is your laptop. We will provide the computing supplies, food and drinks.
To register, click here.
News around the world
Girls Day in Germany -- Workshop on Programming for Kids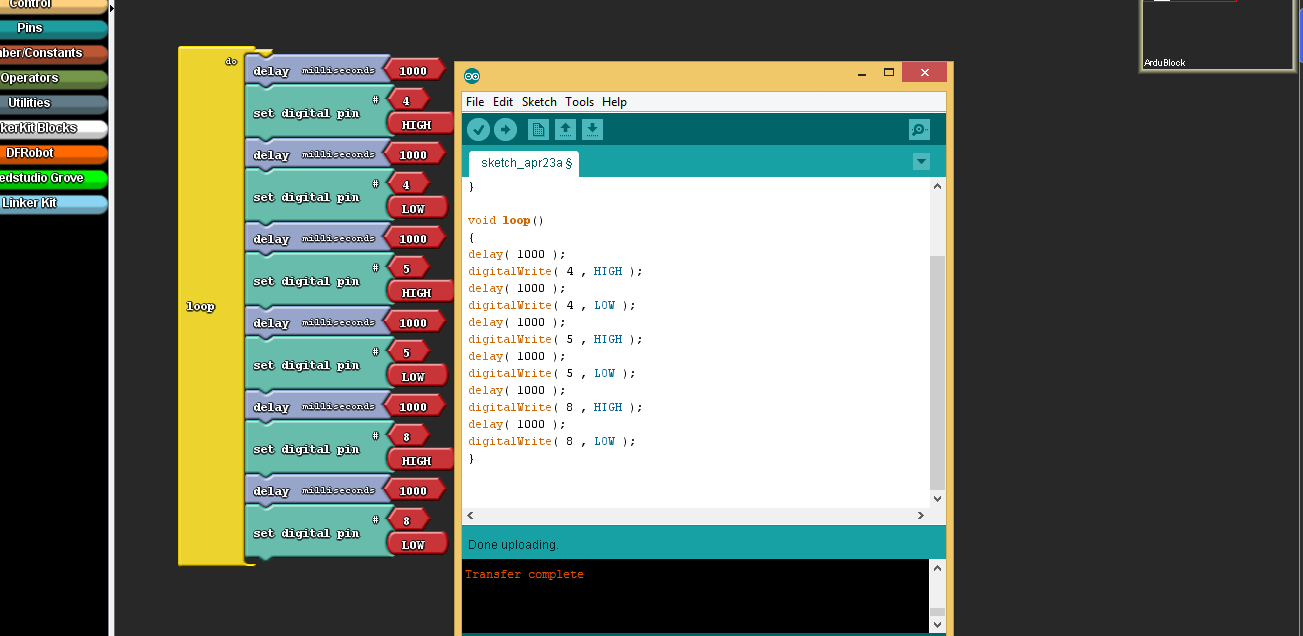 On April 23rd, Girls Day in Germany, Intel GmbH in Munich Germany opened their doors to 40 students to demonstrate the opportunities in the computing field. The workshop used Ardublock with Arduino attached to Intel Galileo boards, breadboard, and wires to program a Galileo board with led lights blinking like a stop light. You can see in the above picture the program they wrote and how Ardublock changed it into code which was downloaded and executed on the processor. The girls attending the workshop were very positive about what they learned and how easy it was to program the board. Bev Bachmayer, the chair of the Outreach Committee of ACM-WE, Bev Bachmayer, says: "I was lucky enough to be able to teach 10 of the 40 girls the basics of computer programming as one of the workshops during the day. I am hoping this workshop will encourage them to do more programming and learn more about STEM studies."
This workshop will be repeated for kids at ACM-W Europe womENcourage Celebration of Women in Computing. The duration of the workshop at Uppsala will be 3 hours. Young minds are free to create variety of prototypes using LED's, wires and other small hardware components. Its time to sign up for the workshop and start thinking of what you would want to create. For those that are teachers or parents, the workshop is easily reproducible, so if you are interested in duplicating this kids programming workshop for your students, send an email to [email protected].
18th Summer University for Women in Informatics, University of Bremen
From August 17 to 28, 2015 the Department of Mathematics and Informatics at the University of Bremen, Germany will host the 18th International Summer University for Women in Informatics. You will experience two weeks of professional studies and establish a network with women having manifold backgrounds in a friendly and stimulating environment at the University of Bremen.
For more information:
http://www.informatica-feminale.de/en/summer2015/index.html