ACM-W Europe Newsletter
February 2016
3rd ACM-W Europe Celebration of Women in Computing: womENcourage 2016 - September 12-13, 2016
We will be celebrating womENcourage 2016 at Johannes Kepler University in Linz.Announcing the next ACM-W Celebration of Women in Computing: womENcourage 2016 (womencourage.acm.org) on September 12-13, 2016 at Johannes Kepler University, in Linz Austria. The program is online and will include inspiring keynote speakers, panel discussions, a Career Fair and Posters on both days of the Celebration.
Letterkenny Institute of Technology Women In Computing event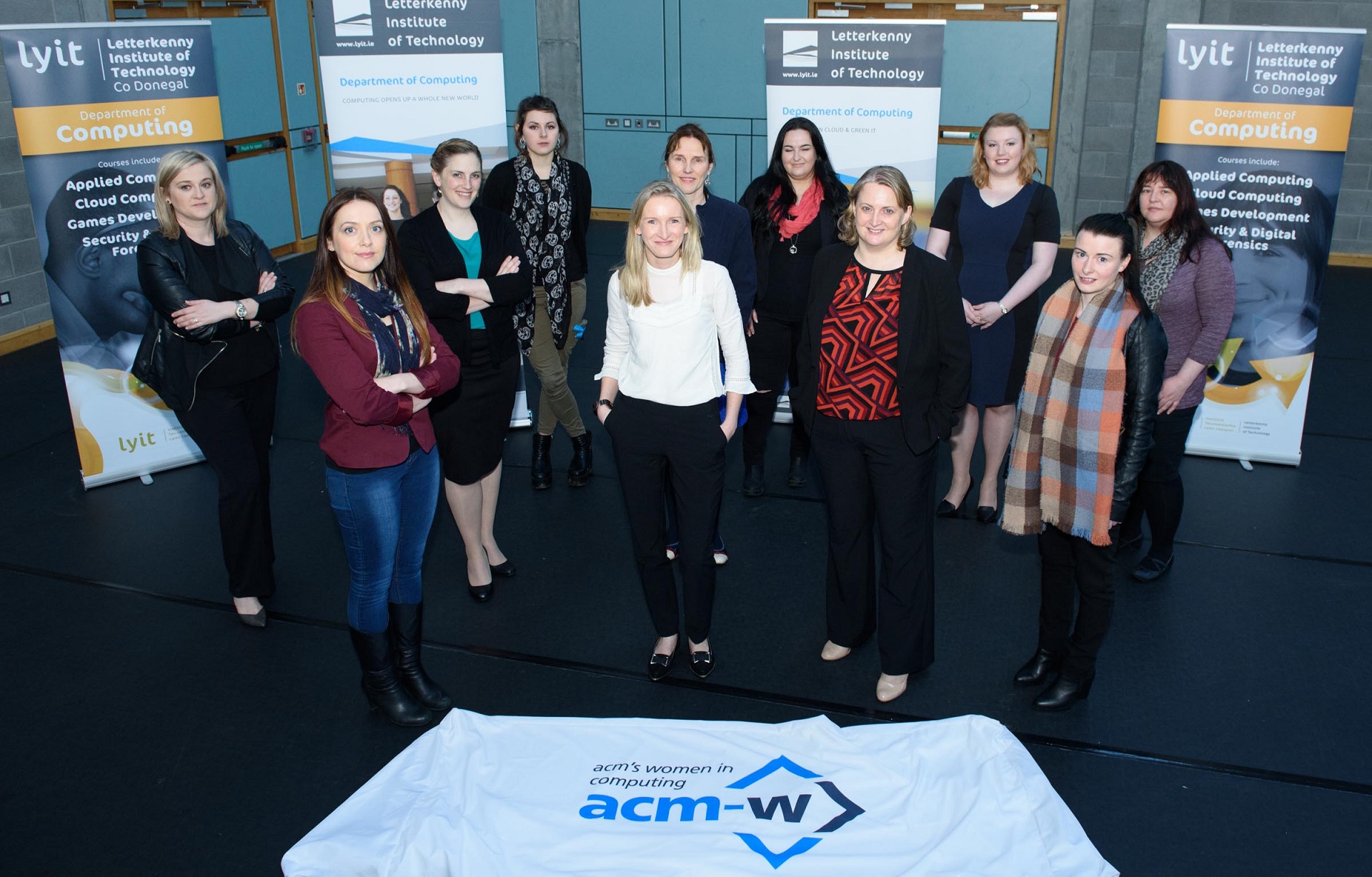 A number of the industry speakers with Dr. Gertie Taggart, Head of the School of Science, Letterkenny Institute of Technology. Absent from Photo: Mr Thomas Dowling, Head of Department of Computing. Note: Not all of the speakers were present at the time of the photograph. Photographs of the attendees could not be taken due to Data Protection Laws in Ireland.
This month, we have exciting news from Ruth Lennon: "On January 22nd Letterkenny Institute of Technology hosted a Women In Computing event. The event was focused on encouraging young women of 15-18 years of age to consider computing as a career. Five hundred young women registered to attend the event. On the day 20 industry speakers spoke to 370 young women about their career path towards computing. They discussed why they chose a career in computing and why their jobs are so varied. Following this a number of young women currently on computing courses spoke to the attendees. This interactive session was provided to dispel many myths about computing and to provide local and national role models for the attendees. The event was sponsored by ACM-WE, Pramerica and other local companies which enabled the attendees to network over lunch after the presentation and take home some goodies!"
News around the world
23-24 MAY 2016 - SAN JOSE, CA - LEAD BEYOND. 2016 IEEE WIE International Leadership Conference
Join over 1100 women May 23 and 24th in San Jose, California for the 2016 IEEE Women in Engineering International Leadership conference. Targeting Mid and Senior level women in engineering, the exciting inspiration packed program has more than 50 speakers delivering session on Leadership, Entrepreneurship, innovation and emerging technology.
More information here: http://ieee-wie-ilc.org/
HPC Summer School in Slovenia! Feb. 15 deadline to apply
Feb. 15 is the deadline to apply for the International Summer School on HPC ( high performance computing) Challenges in Computational Sciences. Seats are reserved for US, Japanese, European, and Canadian grad and postdoc-level scholars. Candidates with some parallel computing and/or HPC exposure are preferred, and applications from female and minority scholars are especially welcome.
Successful candidates will travel to Slovenia for a week where they will learn about computational and data science (and more) from experts who work in a range of scientific domains. Do not miss this amazing opportunity!
Informatica Feminale, The University of Bremen, Germany
The University of Bremen, Germany, invites women experts in computer science/informatics to contribute to the 19th Informatica Feminale. The international summer university will take place from August 08 to August 26, 2016 in the Department of Mathematics and Computer Science at Bremen University. Every year, Informatica Feminale offers compact teaching in informatics/computer science for women students of all types of universities and colleges as well as for women professionals interested in further training. In this regard, entering higher education, developing a student career, transition into labor market and lifelong academic learning are equally applied. International lecturers and students meet at the summer university in Bremen to exchange and to use the place for experimentation, with the intention to develop and imply new impulses in informatics.
Informatica Feminale is looking for companies to sponsor the summer university. For companies, there will be various chances to meet graduates of computer science and engineering at both the parallel summer universities Informatica Feminale and Ingenieurin-Sommeruni.
For more information:http://www.informatica-feminale.de/en/summer2016/call
Hurry-- Deadline Approaching: Google CS4HS Awards
Google's annual Computer Science for High School (CS4HS) Awards programme provides funding to universities, colleges, and nonprofit organisations dedicated to providing exemplary computer science professional development for teachers. Those who meet the eligibility criteria can apply for a CS4HS Award on the CS4HS website. The deadline to apply for funding is midnight (GMT), 15th February 2016.
Successful applicants will receive funding of up to $15,000 each for their project. However, additional funding is available for projects with regional reach and the potential to scale nationally. You can read more about the award here. Please reach out to the CS4HS team [email protected] if you have any questions.
OPENINGS in Creative Technologies
Blekinge Institute of Technology (BTH) has three new positions advertised now. So please spread the word if you know anyone looking for an opportunity. Deadline to apply is February 29 2016 for all of them. http://www.bth.se/jobb
Available positions: