ACM-W Europe Newsletter
October 2016
ACM-W Europe Strives to Increase Diversity in TECH
In September of 2016 ACM-W Europe sponsored two events which discussed diversity and change. The event on September 12 and 13, ACM Europe Celebration of Women in Computing: womENcourage 2016 brought together academia and industry to learn and understand issues in diversity. The second event occurred in Belgrade, Serbia on 24 September in conjunction with EuroBSDcon 2016. When looking at the gender of the attendees these two demonstrate the issue of women in technology. The first event which was billed as a women in computing event was attended by approximately 97% women, and the second which was for the BSD community demonstrates the typical "TECH" event was attended by 97% men. Our mission strives to change both of these to be closer to 50/50 in the future.
Read more on our blog: Increasing Diversity in the BSD community".
ACM-W Europe Celebration of Women in Computing: womENcourage 2016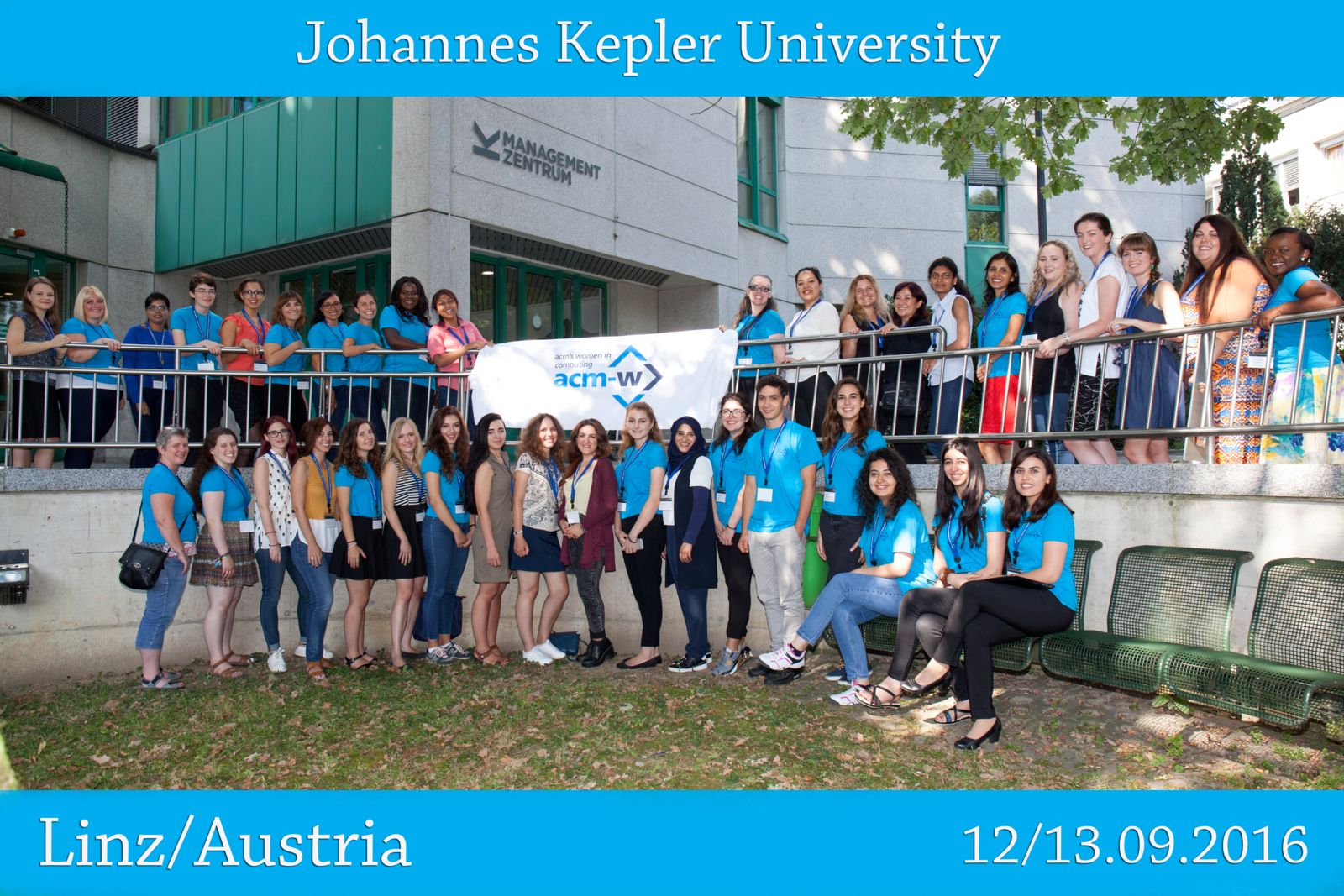 On September 12th and 13th in Linz, Austria academia and industry came together to celebrate diversity in computing. The event was attended by students from 19 countries, with 60% of the attendees being students, and 61% of the students being graduate students. You can watch the videos, check out the pictures and read theblog about the event.
Many thanks to our WomENcourage 2016 Supporters: GOOGLE, SIGPLAN, Bloomberg, Oracle Academy, Informatics Europe, Intel and FreeBSD.
ACM-W Europe and all of the scholarship students are very thankful for our supporters. Each of these companies provided the possibility for 50 students to attend womENcourage 2016. In addition they provided people to create the career fair which gives many of these students their first opportunity to talk with employers and academics about their careers. From the evaluation feedback this is the most valuable part of the event. Therefore we thank our supporters for not only the possibility for students to travel but also for their time spent with these students.
News around the world
SIGCSE, Seattle, Washington, USA: Travel Grants Applications Due October 17th
*NOTE NEW DUE DATE:* Because October 15th falls on a weekend, we are extending the deadline for this program to the next business day, October 17, 2016.
The Special Interest Group on Computer Science Education (SIGCSE) provides a forum for educators to discuss issues related to the development, implementation, and/or evaluation of computing programs, curricula, and courses. The Technical Symposium is usually held in February/March in the USA, with approximately 1300 attendees. The SIGCSE Travel Grant Program was established through a generous donation by Henry Walker to support faculty and teachers who have not yet had an opportunity to attend the SIGCSE Symposium.
Apply now for SIGCSE Travel Grants. If you have questions about the Travel Grant Program that are not answered by the page listed above please contact the Travel Grant Program committee at [email protected].
WOMENPOWER 2016, Limassol, Cyprus: Call for Posters Deadline October 15, 2016
Womenpower Symposium 2016 (WeMe2016) is a full-day event with invited talks, panel discussions, and visual poster presentations. The event will bring together female faculty, students, researchers and professionals for an opportunity to connect, exchange ideas, and learn from each other.
Submit your poster and apply for a travel Scholarship to attend WOMENPOWER Symposium 2016.
Ada Lovelace Festival, Berlin Germany, October 13-14, 2016: Connecting Women in Computing and Technology
Following on from the inaugural success of #ada15, which saw 250 female IT professionals and 50 international speakers gather in Berlin last October, the Ada Lovelace Festival is back in 2016. The event provides a strong platform for the voices of female IT practitioners. The second Ada Lovelace Festival will give current and future IT and technology professionals a chance to meet and network. For two days, on 13th and 14th October 2016, the delegates will share their knowledge, ideas, experiences, inspiration and mentoring at the "Bolle Meierei", in the heart of Berlin.
More details are on the Ada Lovelace Festival page. Students may apply for a ticket with reduced fee. Just click on the tickets link.