ACM-W Europe Newsletter
February 2017
womENcourage 2017 Call for Participation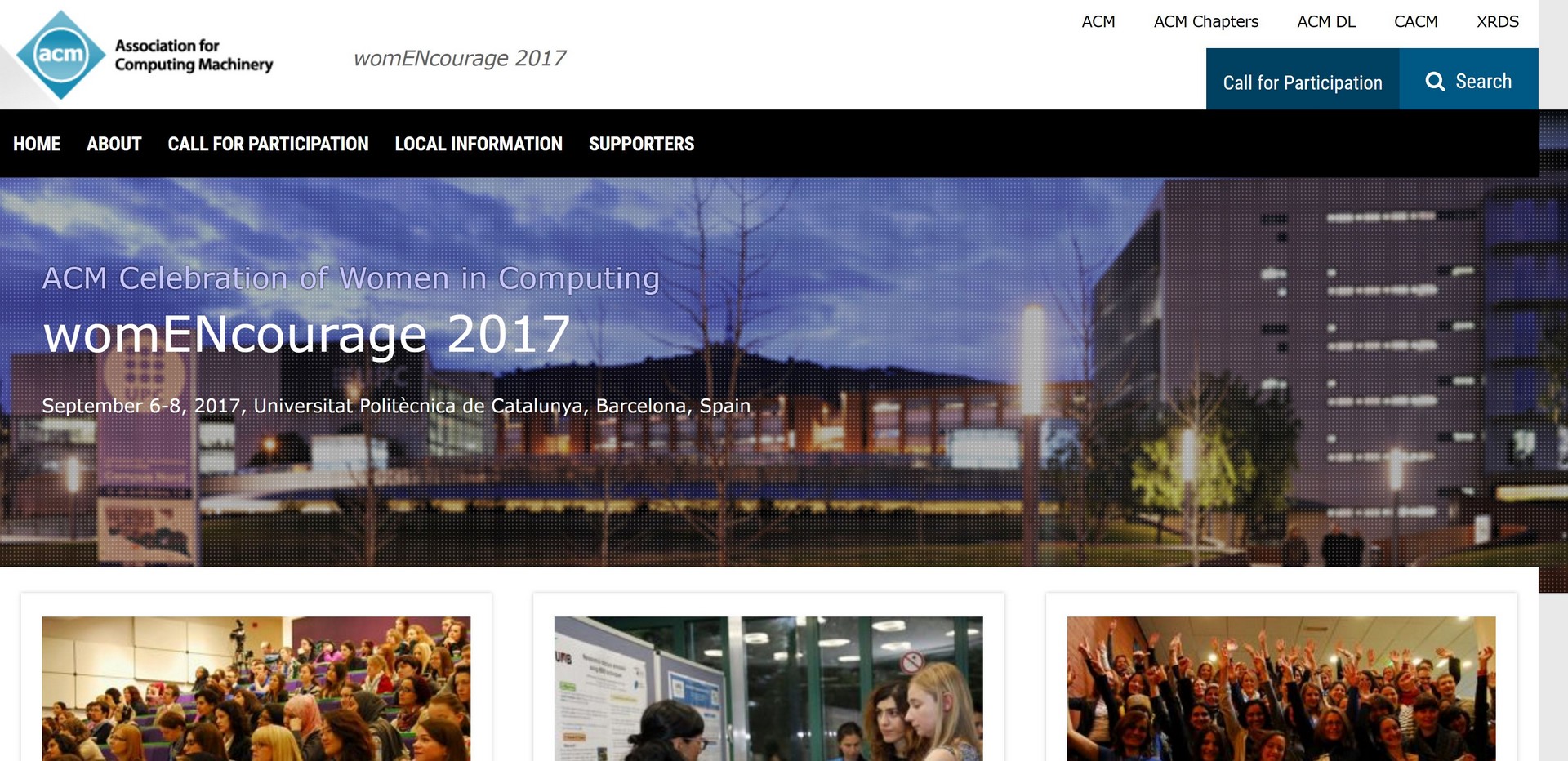 See the new website at: https://womencourage.acm.org.
ACM Europe Celebration of Women in Computing: womENcourage 2017 aims to celebrate, connect, inspire, and encourage women in computing. The celebration brings together undergraduate, MSc, and PhD students, as well as researchers and professionals, to present and share their achievements and experience in computer science. WomENcourage solicits posters from all areas of Computer Science. The Call for Participation is now available.
Key Dates
See more information https://womencourage.acm.org.
Keynotes, Hackathon, Workshops, Posters, Tech Talks and Panels: JOIN US in September
ACM-W Europe Celebration of Women in Computing: womENcourage 2017 is a networking event par excellence. Tailored to encourage young women including students at all levels, researchers and early practitioners it promotes discussion among peers as well as senior people in the field. Meet colleagues just like you - inspired by your field, highly motivated and very good at what they do! Share your experiences and learn from the experiences of others.
HiPEAC at DATE 2017
Attending DATE 2017? Be sure to visit HiPEAC's booth (no. 22) to meet our dedicated recruitment officer and find out what career opportunities are currently available from companies in our network.
HiPEAC will also host a special session in the DATE exhibition theatre - come along to find out more about what the network can do for you.
News around the world
Informatica Feminale
The University of Bremen, Germany, invites women experts in computer science/informatics to contribute to the 20th Informatica Feminale. The international summer university will take place from August 07 to August 25, 2017 in the Department of Mathematics and Computer Science at Bremen University. http://informatica-feminale.de.
Companies are invited to sponsor the summer university.There will be various chances to meet graduates of computer science and engineering at both the parallel summer universities Informatica Feminale and Ingenieurinnen-Sommeruni.
Every year, Informatica Feminale offers compact teaching in informatics/computer science for women students of all types of universities and colleges as well as for women professionals interested in further training. In this regard, entering higher education, developing a student career, transition into labor market and lifelong academic learning are equally applied. Inter/national lecturers and students meet at the summer university in Bremen to exchange and to use the place for experimentation, with the intention to develop and imply new impulses in informatics. The summer university is aiming at the professional networking of students and the advanced training for computer scientists on an academic level.
Professor in Artificial Intelligence and Machine Learning at NTNU
NTNU expressly invites applications from qualified female scientists.
NTNU, together with Telenor Group, is establishing a new professorship in Machine Learning, with an emphasis on challenges related to Big Data and the corresponding scalability of methods. The professorship is hosted by the Department of Computer Science (IDI), under the Faculty of Information Technology and Electrical Engineering. The professor is expected to lead the development of the recently established Telenor-NTNU AI-Lab, and should have an outstanding record of research and scientific leadership. More here https://www.jobbnorge.no/ledige-stillinger/stilling/132964/professor-in-artificial-intelligence-and-machine-learning