ACM-W Europe Newsletter
July 2017

ACM Celebration of Women in Computing: womENcourage 2017 September 6-8, Barcelona, Spain
Career fair, hackathon, workshops, inspiring talks, panels networking and making lifelong friends... We are looking forward to see you there! During registration you can sign up for the Hackathon or Workshops.
Check out the website https://womencourage.acm.org/ for more details.
womENcourage 2017 is co-located with ACM Europe Conference for which registration is free but early registration is encouraged due to limited seating. For more information, visit http://acmeurope-conference.acm.org/.
Do not forget! Hackathon is on September 6, 2017
Career Fair
Are you looking for an internship or a permanent position? So many opportunities abound at the ACM-W Europe Career Fair on 7 September 2017.
Our supporters will be available at the Career Fair on September 7th from 1:30 PM until 4PM. Come join us for lunch at the Career Fair, network with industry professionals who can give you information about internships and career opportunities.
Additionally, our supporters are interested to see your CV as soon as possible, be sure to submit your name and CV to the CV database when you register for womENcourage 2017. We will forward this information to the supporters who will contact you prior to the event to discuss with you opportunities
We are looking forward to seeing you in September.
Our Supporters
Super Diamond: SIGOPS
Diamond: Accenture, HP, Intel and SIGCHI
Platinum: Google, Oracle Academy
Gold: Bloomberg
Silver: Informatics Europe, Microsoft
Bronze: Inria
Conference Bag Supporter: Amazon Development, Scottland
For more details, visit the womENcourage Website.
How do you find and keep more women in Computing? - Activities from HIPEAC community
HIPEAC community is actively looking for an answer. Read the article in HiPEAC Info Finding Nema: Breaching the ICT Gender Gap
HiPEAC Jobs: the one-stop shop for opportunities in advanced computing
Looking for a new challenge in computing systems or need to appoint skilled and specialist staff? Got an internship you'd like to advertise?
With over 500 opportunities per year in a wide range of areas, the HiPEAC Jobs Portal is becoming the definitive one-stop shop for specialist roles in advanced computing in Europe. HiPEAC Jobs will be participating at the ACM womENcourage careers fair in Barcelona on 7 September 2017.

Interested in finding out more?
Website: hipeac.net/jobs
Email: recruitment@hipeac.net
Twitter: @hipeacobs
LinkedIn: hipeac.net/linkedin
News around the world
Local ACM Celebrations of Women in Computing
The number of celebrations are growing every year. From July 1 2016 to June 30 2017 26 ACM Celebrations of Women in Computing took place worldwide and 9 of these were in Europe:
Spain Valencia, July 1, 2016
Cyprus womenpower November 16, 2016
Russia Perm, RusWIC March 1-3, 2017
Turkey Ankara, ACWiC March 11-12, 2017
Serbia Belgrade April 25-26, 2017
Spain Mallorca May 5, 2017
Azerbaijan Baku, April 15, 2017
UK Hertfordshire, May 12
Ukraine Kyiv, May 20-22, 2017
Thanks to all volunteers who gave their time and effort to organize these amazing events. We are hoping that this number will grow in the coming year. ACM-W Celebrations Chair Wendy Powley is inviting all past and potential Celebrations Coordinators to register by filling the registration form if they are planning a celebration between July 1, 2017 and June 30, 2018. And please keep in mind that funding is not guaranteed if the event is not registered by July 31st, 2017. If you have not yet joined Celebrations Facebook page, please do so now!
To qualify as an ACM Celebration the event must comply with the following:
The event must be branded as an ACM Celebration in the title -- for example, "The ACM Canadian Celebration of Women in Computing" or "The XXX Celebration of Women in Computing, An ACM Celebration event" and this must be clearly indicated on your website. This is very important. We will not consider your event an ACM Celebration if not properly branded.
The event must be at least one full day in length (preferably longer) and feature speakers or workshop leaders from diverse backgrounds.
Include attendees from a diverse population -- that is, from more than one area or school.
If you have questions please feel free to contact Wendy Powley.
2nd INSPIRE Conference 2017: Identity, Impact and Voice - ACM Celebration of Women in Computing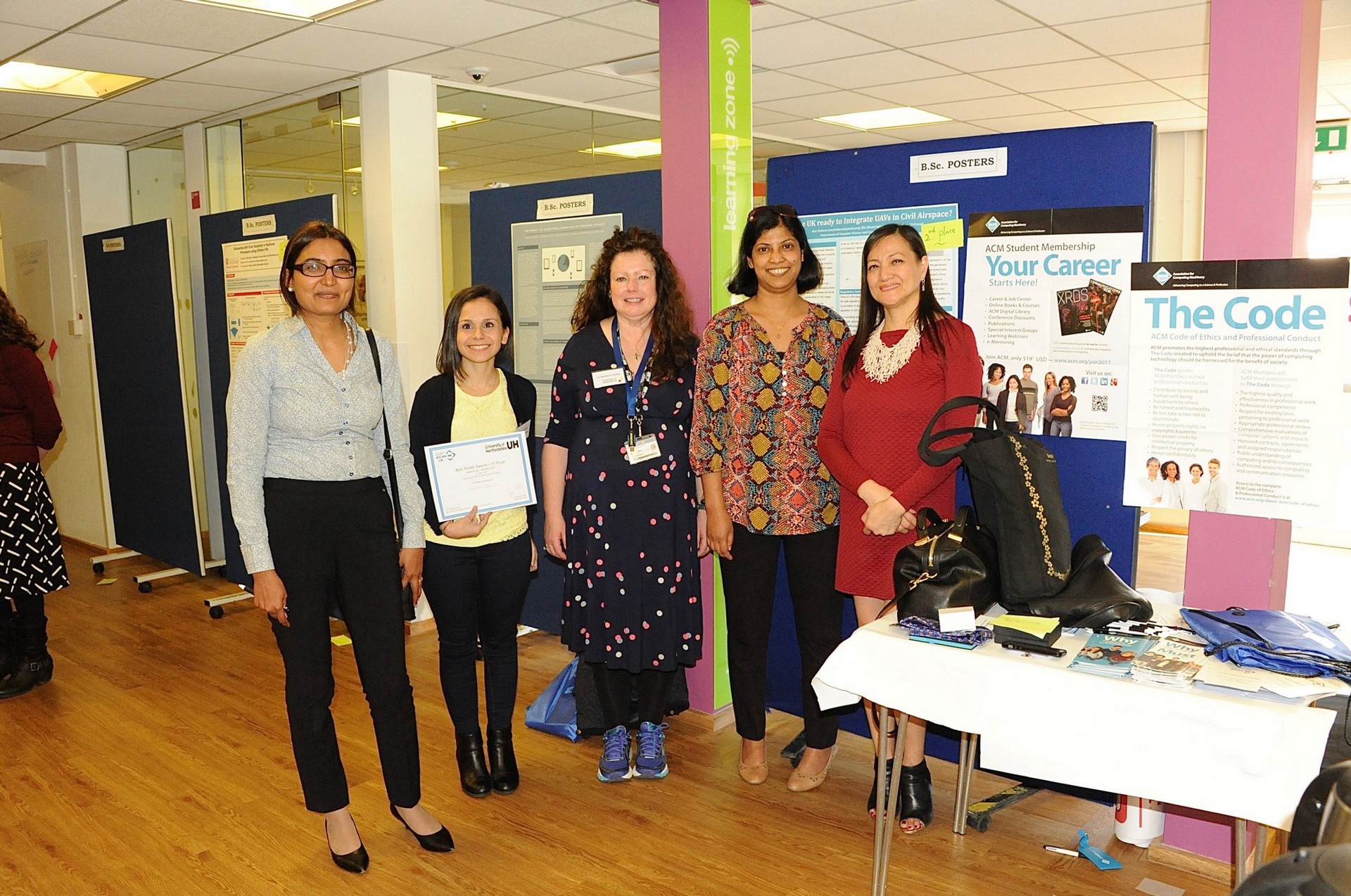 On 12th May 2017, ACM-W UK professional chapter organised the 2nd "INSPIRE Conference - Identity, Impact and Voice" in collaboration with ACM student chapter at University of Hertfordshire. The conference was attended by nearly 50 university students and academics from all over the UK. The aim of the conference is to encourage and recognise commitment to advancing the careers of women in STEM employment and research in Higher Education. This one-day conference provided a gateway to hear from world-leading speakers from academia and industries, showcase good practice, learn new skills and form networks of like-minded colleagues.
In addition to talks delivered by prestigious speakers like Professor Cecilia Mascolo - (Professor of Mobile Systems, Computer Laboratory, University of Cambridge), Professor Ruth Aylett (Professor of Computer Science, Heriot-Watt University), Gen Ashley (Director of Women Who Code, Lead at Google WomenTechMakers London), there were multiple student presentations and panel discussion on the topic of "Negotiating Identity".
The event was a great success as evident from the stupendous feedback.When participants were asked about what they liked about the event, the unanimous choice were the inspiring talks by the keynote speakers and the panel discussion. Snippets of some very favourable comments are:
"All the speakers were very approachable!"
"The talks were inspiring!"
"The range of speakers and how they engaged students was outstanding!"
"The speakers were interesting and have made me think about doing things differently."
"I could relate to Ruth's cycle of perfectionism, it's like being on a hamster wheel and going round and round and getting nowhere fast. I am inspired to get off and say no, my best is good enough!"
For a more detailed report and pictures, please visit the blog.
ACM-W Celebration in Ukraine at Taras Shevchenko National University of Kyiv.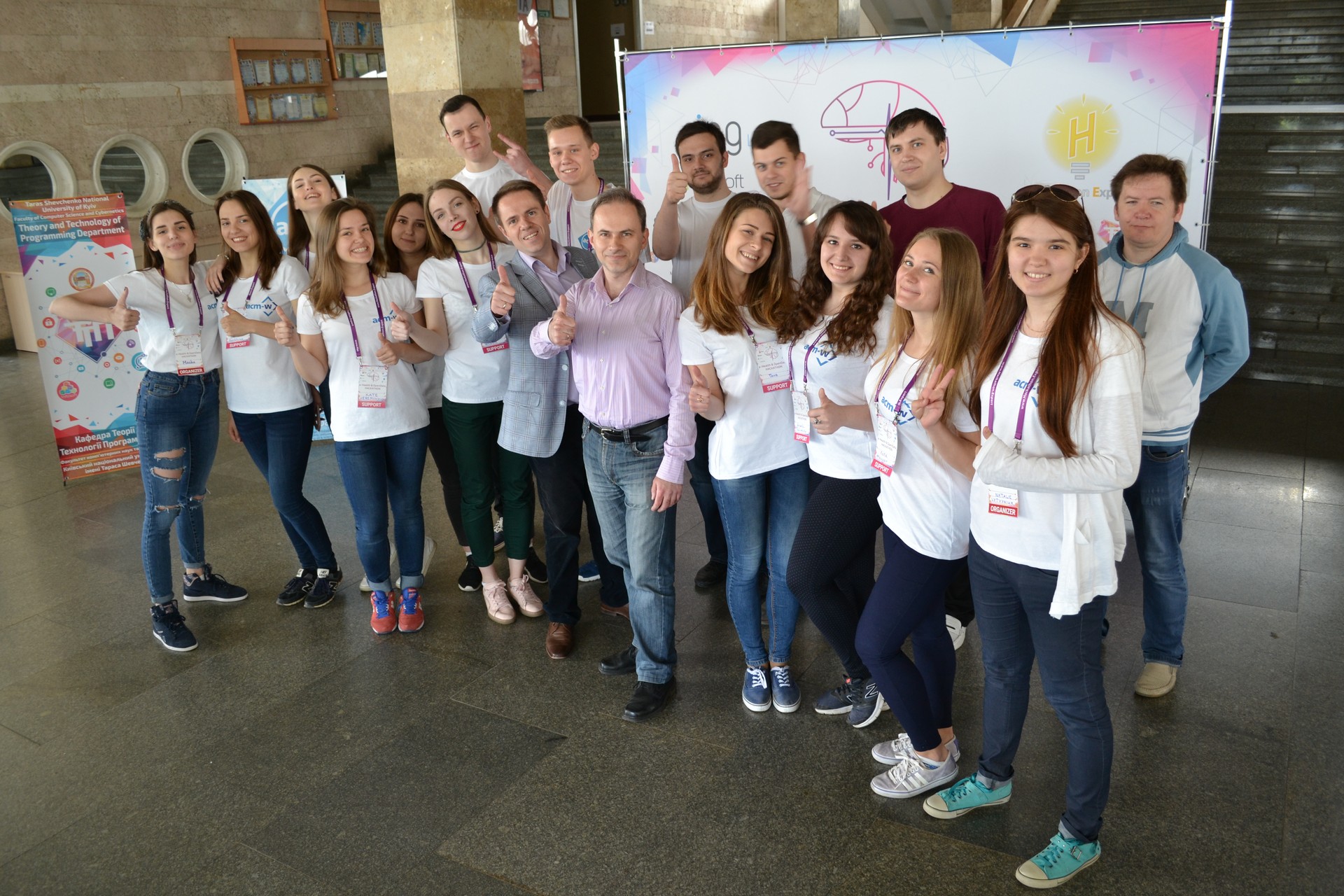 Hackathon Expert Group, Ukraine
The long-awaited Ukraine ACM Celebration of Women in Computing took place on 20th-22nd of May. Supported and was organized by the ACM Ukrainian Chapter, Department of Theory and Technology of Programming, Faculty of Computer Science and Cybernetics, Taras Shevchenko National University of Kyiv, and Hackathon Expert Group.
As the name suggests the Ukraine ACM Celebration of Women in Computing is dedicated to women who can show and share their progress and experience in IT and also motivate, encourage and inspire other for the achievements.
Beginning with the 2-day weekend was the ML+AI Hackathon in e-Health and Open Data, organized with Hackathon Expert Group, whose expert execution made the entire hackathon weekend successful for all participants and set the stage for a very inspiring Celebration overall.
Monday morning started with a Poster Session which included the Best Student's Project and the Best Student's Scientific Work Competitions.
The participants were privileged to hear the following invited speakers:
Vladyslava Rutytska, who is the Deputy Minister of Agrarian Policy and Food of Ukraine on European Integration and represents Ukraine as a senator of European Parliament, the member of HR Committee of EBA and the graduate of the Faculty of Computer Science and Cybernetics. She is in the top 15 women-leaders of agrarian business.
Olga Chumakova, co-founder of Be Sure Healthcare B. V. and Ukrainian healthcare TPA, shared her experience and advices and told about her path to be on the Inspiring Fifty 2017 in the Netherlands.
Participants also competed in an interesting quiz dedicated to the famous women in computing and the ACM history. The winners received pretty ACM-W cups and other practical prizes.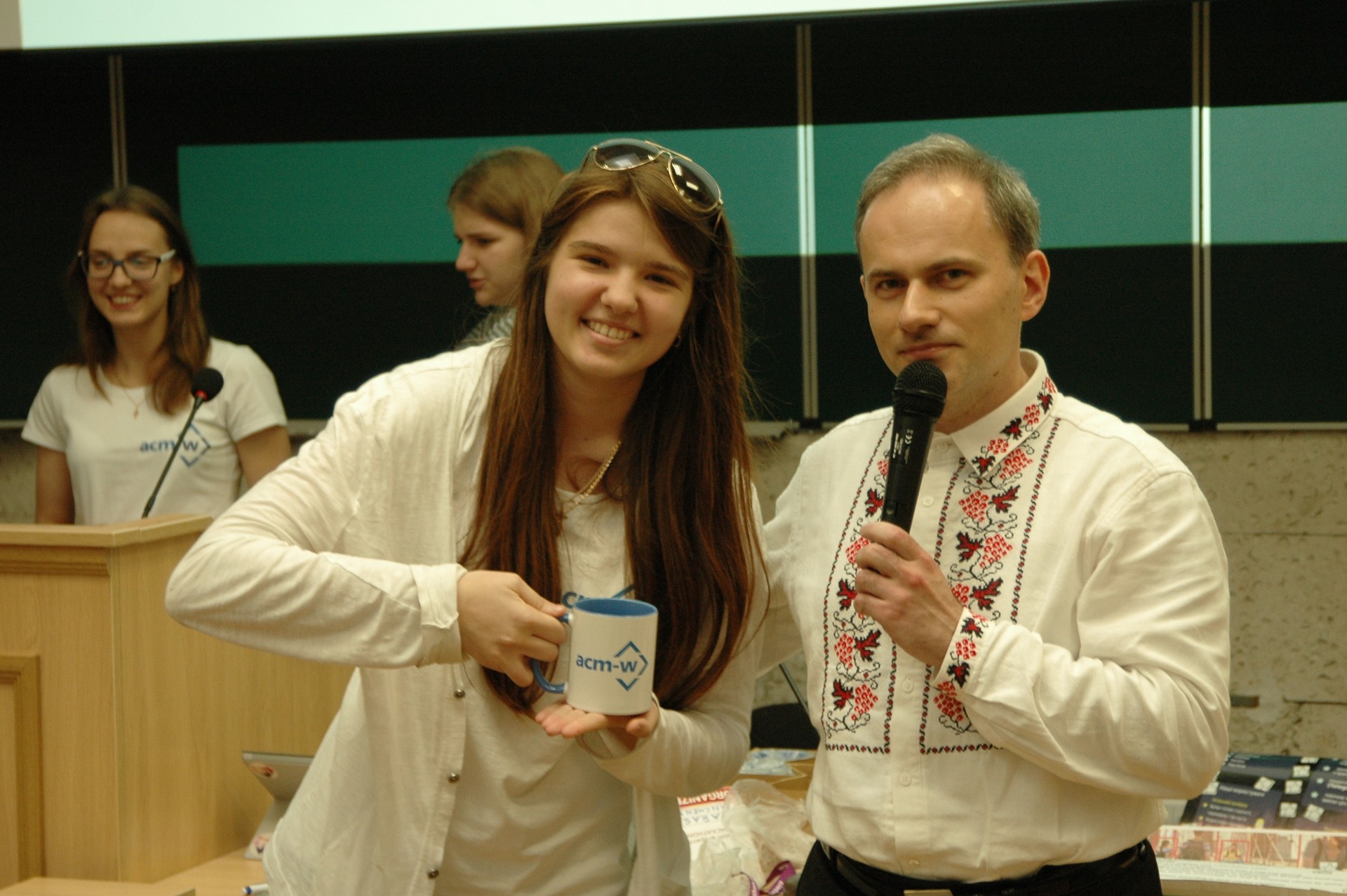 In the Awards Ceremony for two competitions winners, the special award from the ACM was also presented to the Faculty Dean for hosting the Celebration.
The performance of a famous Ukrainian musician and composer Mike Kaufman-Portnikov and his virtuoso playing the piano, concluded the this evening of inspiration. Inspiration for new breakthroughs and victories in computing for women in IT!
For details, please see:
ACM Ukrainian Chapter page - https://www.facebook.com/acm.ukraine/
Detailed report about Ukrainian ACM Celebration of Women in Computing with photo -https://www.facebook.com/events/392919637749187/permalink/441575582883592/
Hope to see you next time at our Ukrainian ACM Celebration of Women in Computing!
ACM Award and Advanced Grades of Membership Deadlines
Celebrating Accomplishments of ACM Women in Europe
Each year ACM recognizes outstanding achievements of its members through awards that cover a spectrum of professional and technological areas and different stages of professional development.
Following the mission of ACM-W to foster women participation in the field of computing, ACM-W Europe invites the community to welcome and recognize accomplishments of ACM Women in Europe who made significant contributions through their technical and professional excellence.
Advanced Grades of Membership Deadlines:
ACM Fellow: September 7, 2017
Distinguished Members: August 1, 2017
Senior Members: September 3, 107
Nominations are due November 30, 2017 for the following ACM awards:
Please refer to the ACM Awards website at http://awards.acm.org/award_nominations.cfm for:
Nomination process ("How to Nominate" and the online nomination form), members of the 2017 Award Committees
Links to the listing of past award recipients and their citations
For SIG-specific Awards, please visit https://awards.acm.org/sig-awards.
Thank you for joining us in recognizing accomplishments of ACM Women in Europe and ensuring they are nominated for ACM Awards they deserve.