ACM-W Europe Newsletter
October 2017
ACM Celebration of Women in Computing: womENcourage 2017 September 6-8, Barcelona, Spain

Google announces 60,000 scholarships for Udacity developer coursesWant to build a career as an Android or Web developer? Apply for a free scholarship by Udacity and Google. Applications end October 15th. https://goo.gl/1sMGgM
ACM Award and Advanced Grades of Membership DeadlinesCelebrating Accomplishments of ACM Women in EuropeEach year ACM recognizes outstanding achievements of its members through awards that cover a spectrum of professional and technological areas and different stages of professional development.Following the mission of ACM-W to foster women participation in the field of computing, ACM-W Europe invites the community to welcome and recognize accomplishments of ACM Women in Europe who made significant contributions through their technical and professional excellence.Advanced Grades of Membership Deadlines:
ACM Fellow: September 7, 2018
Distinguished Members: August 1, 2018
Senior Members: December 3, 2017
Nominations are due January 15, 2018 for the following ACM awards:
Please refer to the ACM Awards website at http://awards.acm.org/award_nominations.cfm for:
Nomination process ("How to Nominate" and the online nomination form), members of the 2017 Award Committees
Links to the listing of past award recipients and their citations
For SIG-specific Awards, please visit http://www.acm.org/special-interest-groups/sig-award.Thank you for joining us in recognizing accomplishments of ACM Women in Europe and ensuring they are nominated for ACM Awards they deserve.
womENcourage 2017: Amazing, inspiring and fun!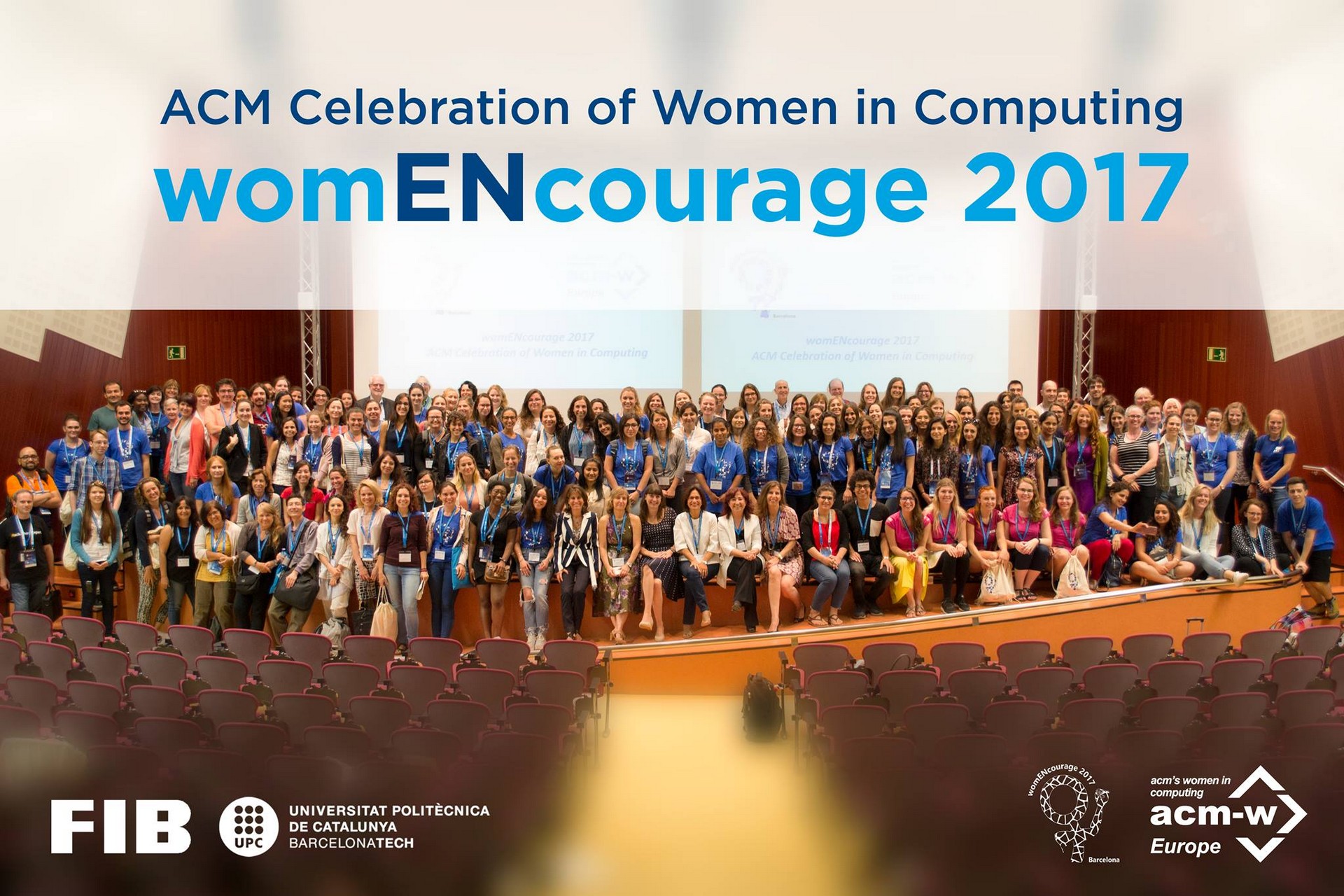 Highlights from the inspiring three days of ACM Celebration of Women in Computing: womENcourage 2017.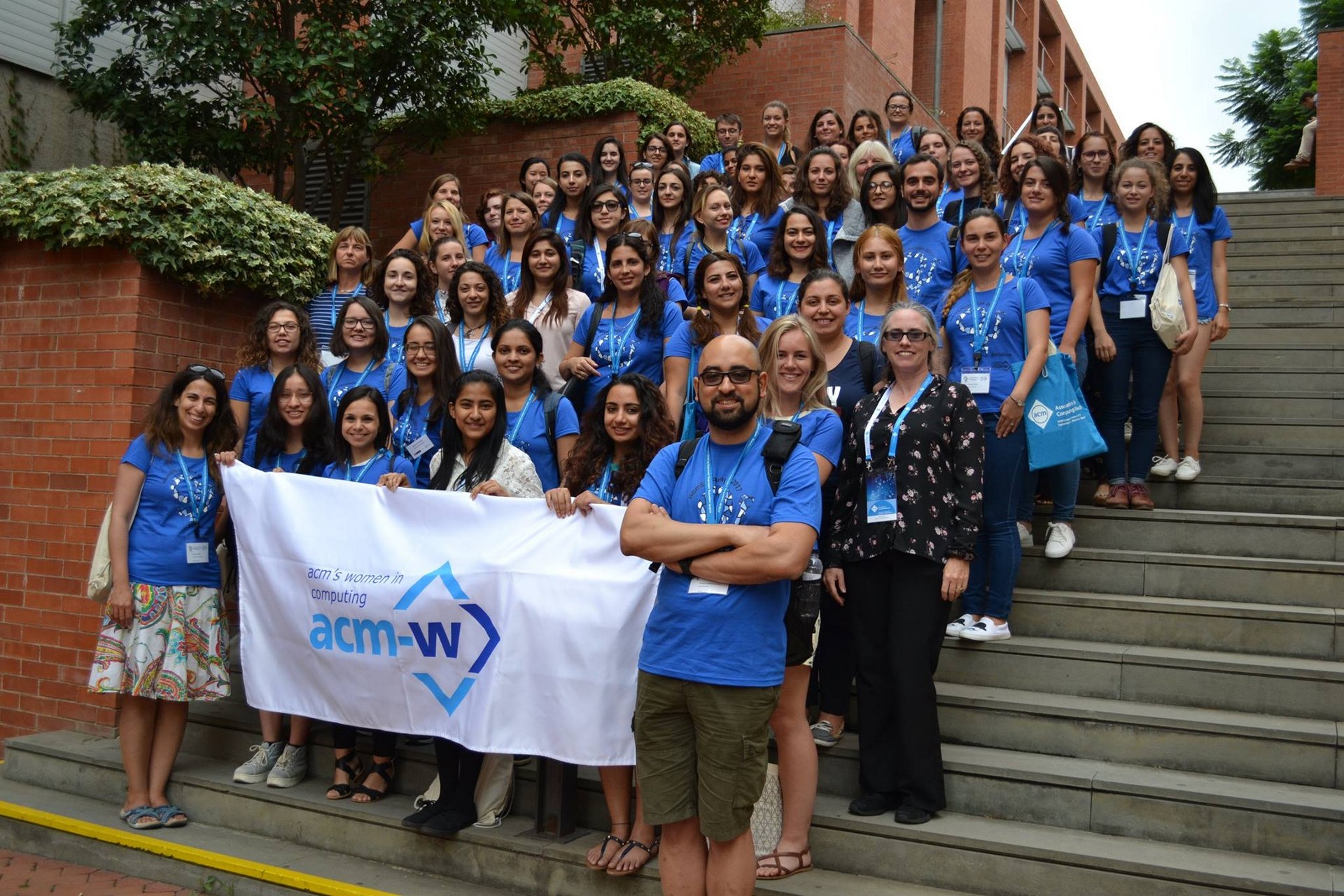 Located in the charming city of Barcelona, this year womENcourage was attended by two hundred and six participants from 31 different countries. A big highlight this year was the generosity of our supporters SIGOPS, SIGCHI, HP, Accenture, Intel, Google, Oracle Academy, Bloomberg, Sopra Steria, Informatics Europe, Microsoft, Everis, Inria, Thoughtworks, Amazon Development Center, InfomaTICS. Their generosity allowed us to grant seventy-two Travel Scholarships to participants from nineteen different countries. Our scholarship participants volunteer their helping hands to keep the event running smoothly. Working together we are able to make womEncourage the success it is.
We began the conference by getting warmed up with a hackathon. Supported by Intel, 60 participants got busy creating prototypes from the Sparkfun Inventor's Kits that Intel provided. They produced 14 demo projects targeted at improving the local environment. We heard that the participants liked being able to collaborate and learn new things (especially, hardware). They enjoyed the team spirit and building new relationships.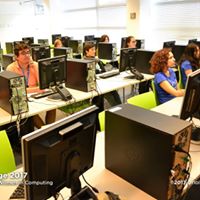 Workshops and the career fair filled the second day of the event. Seven different workshops offered a variety of topics, including CodeCon workshop presented by Bloomberg, and a workshop about the Greenfoot development environment which can be used in teaching. Accenture presented perspectives 'From personalization to data and beyond'. ACM delivered a Celebrations of Women in Computing workshop, Women in HPC presented an introduction to HPC programming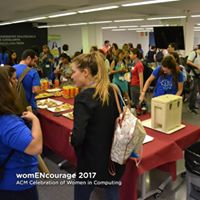 Following the workshops, HP, Accenture, Google, Oracle Academy, Bloomberg, Sopra Steria, Everis,Thoughtworks, and Amazon Development Center, as well as the HIPEAC Jobs portal participated in the Career Fair. The attendees were able to speak with company representatives about job opportunities and internships. Through lively and friendly discussions they learned about inspiring and exciting career paths.
Seventy-four posters were presented during the poster session. The diversity and depth of poster topics were remarkable. Posters and their abstracts can be found at the WomEncourage poster site.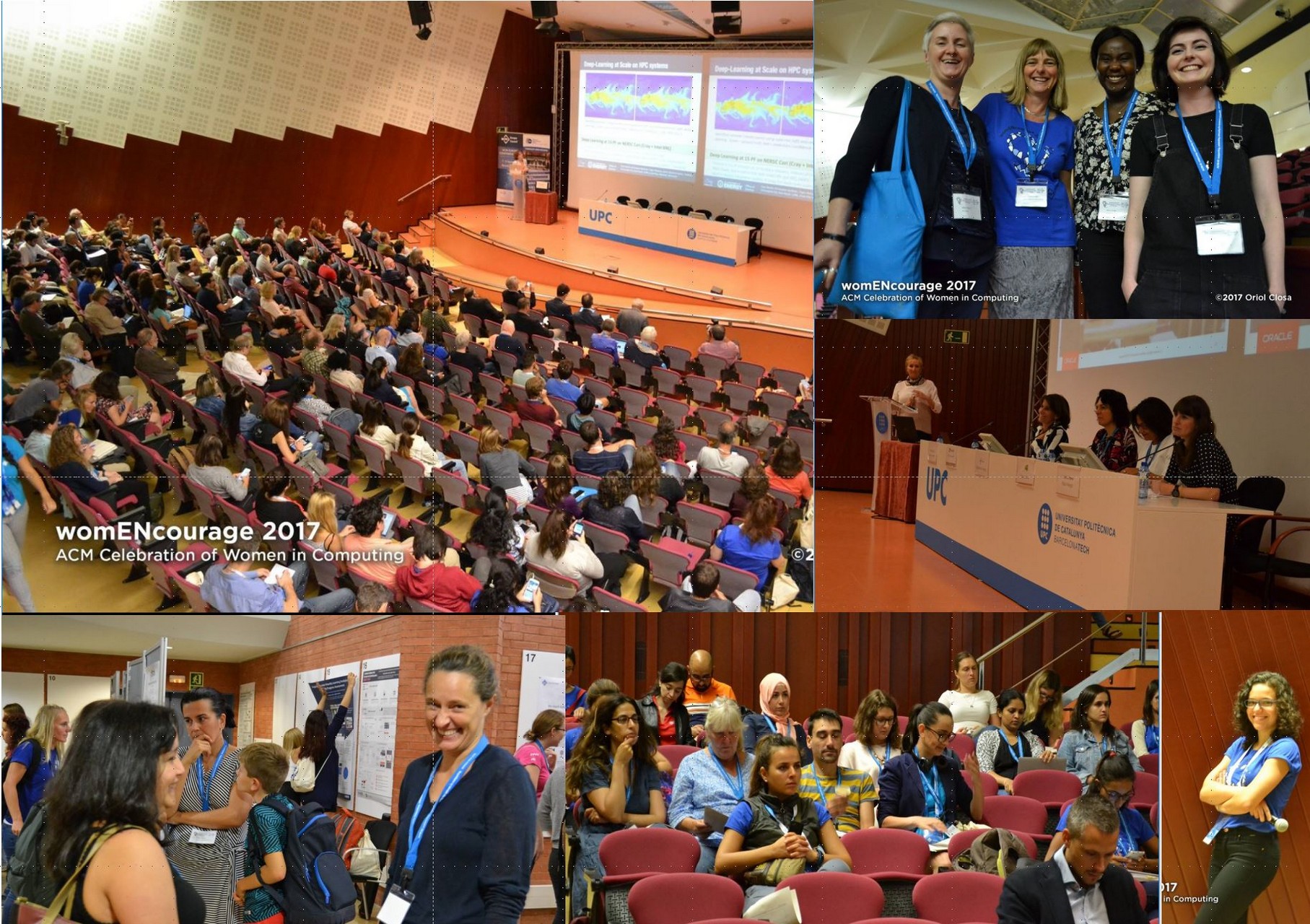 It is difficult to sum up Friday in a few words. We heard from the participants that the day was amazing, inspiring, and fun. Here is a collage of photos from the final day of womENcourage 2017.
Call for Proposals for hosting womENcourage 2018
Deadline for submission: October 20, 2017.
We welcome proposals for hosting and organizing womENcourage 2018 and invite organizations to send detailed proposals to [email protected].
Proposals should include:
Information about the hosting institutions, with previous track record of hosting events.
Information about the local team that will organize the conference.
For each member of the organizing team we require professional affiliation and past experience in organizing events. The team should comprise:

Programme Chair and Vice-chair
Poster Chair
Workshop Chair
Marketing and Sponsorship Chair
Job Fair Chair
Hackathon Chair.

Information about potential venues

Name
Location
Transportation Options(how do people get there from the airport
Attendance capacitye
Layout of the function space
Estimated budget that includes: cost of the function space, catering, audio visual services, transport costs, if required
Guidelines: We are looking for conference venues with following characteristics
Easy to reach from the airport and the conference hotel
Adjoins or within walking distance to a suitable hotel which can accommodate 250 attendees
Excellent Internet connectivity
Reasonable access to transport for sightseeing.
News around the world
Call for Papers: GEWINN
Call for Papers deadline for the GEWINN: Gender/Knowledge/Computer Science/Network is October 31, 2017. It will take place in May, 14/15, 2018 in Heilbronn, Germany. Researchers from all over the world are invited to present their work to further the understand and develop possibilities of action to promote gender equality in IT. For more information, visit GEWINN Conference site.