ACM-W Europe Newsletter
July 2018
ACM Celebration of Women in Computing: womENcourage Hackathon 2018, 3 October 2018
https://womencourage.acm.org/2018/index.php/hackathon/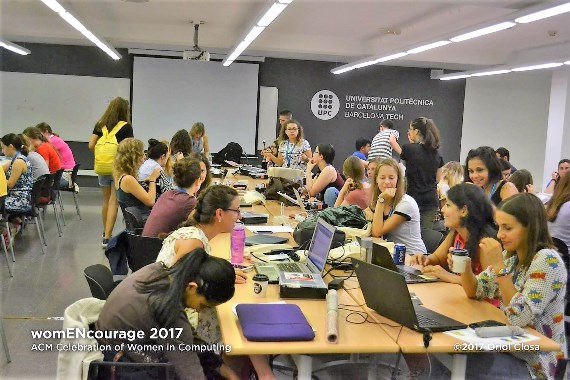 What problem can you solve with your coding skills? What about that app you always wanted to develop? We are kick-starting the womENcourage 2018 conference with a one-day-long hackathon, where you can use your coding skills to bring your ideas to life.
We are now seeking project proposals related to design and development (e.g. a mobile app, website or a hardware prototype) in areas of your interest or social problems (e.g. poverty, democracy) that you wish to solve using latest technologies (e.g. Blockchain, IoT, machine learning). Please use this form to propose your ideas by 20th July 2018: Suggest projects

During the event, participants will be supported by mentors from Belgrade Institute of Technology.

If you would like to participate as a mentor or become a sponsor for the hackathon, or have any project proposal related questions, please feel free to contact dorota@ecs.soton.ac.uk.

Information for supporters:

We are starting the womENcourage 2018 conference with a one-day long hackathon, where approximately 200 young women from different parts of Europe will get together to work on tech projects. We invite academic and industrial partners to participate and support us in the event in the following ways:

1) Supporters - You could provide swag for all participants (e.g. stickers) and prizes for the winners. Supporters will be advertised on the womENcourage website and all marketing materials. Supporters will also be eligible to receive contact information of all participants who have agreed for their details to be shared. See the supporters webpage.

2) Project Leaders - During the event, industry and community representatives can lead participant teams working on pre-defined projects. The project details can be defined by the project leader. It could either be a contribution to a well-established open-source initiative or new project from scratch. You can decide a problem for the teams and help them design and code the solution. The participants can select projects at the time of conference registration.

3) Technical Mentors – You can provide programming support to the participants and solve their coding related problems faced during the project execution.

We look forward to you support and help us in this endeavour by dropping an email at acm_w_europe_hackathon@acm.org by the 20th July 2018.
News around the world
Gender Gap in Science
The 2018 Global Survey of Mathematical, Computing, and Natural Scientists has been launched on May 1st, 2018 and will be opened for answers until October 31st, 2018.

Click to complete the 2018 Global Survey of Mathematical, Computing, and Natural Scientists

You are welcome to forward this link to the survey to your colleagues, men and women. Invitation letters to participate in the survey are available here in: English, French, Chinese, Japanese, Russian, Spanish, and Arabic.
SIGCSE Special Projects Award
Today SIGCSE announce the accepted projects for the Special Awards Program. Congratulations to the winning projects.

The next deadline is November 15th, check it out here

Local ACM-W Celebrations of Women in Computing

If you are planning a Celebration that will take place between July 1, 2018 and June 30, 2019, please fill in this Registration Form.

All Celebrations are expected to join Celebrations Facebook page.

Contact Wendy Powley (wendy@cs.queensu.ca) if you have questions about support and funding.

ACM Award and Advanced Grades of Membership Deadlines
Celebrating Accomplishments of ACM Women in Europe
Each year ACM recognizes outstanding achievements of its members through awards that cover a spectrum of professional and technological areas and different stages of professional development.
Following the mission of ACM-W to foster women participation in the field of computing, ACM-W Europe invites the community to welcome and recognize accomplishments of ACM Women in Europe who made significant contributions through their technical and professional excellence.
Advanced Grades of Membership Deadlines:
ACM Fellow: September 7, 2018
Distinguished Members: August 1, 2018
Senior Members: June 3, 2018
Nominations are due January 15, 2019 for the following ACM awards:
Please refer to the ACM Awards website at http://awards.acm.org/award_nominations.cfm for:
Nomination process (�How to Nominate� and the online nomination form), members of the 2017 Award Committees
Links to the listing of past award recipients and their citations
For SIG-specific Awards, please visit http://www.acm.org/special-interest-groups/sig-award.
Thank you for joining us in recognizing accomplishments of ACM Women in Europe and ensuring they are nominated for ACM Awards they deserve.