ACM-W Europe Newsletter
April 2014
womENcourage: Want to save the world? Be a computer scientist!
"I wanted to change the world... So I became a computer scientist," declared a PhD student of computer science at Cambridge University during a discussion called "What can you do to change the world?", part of our first ACM-W Europe Celebration of Women in Computing.
Computer scientists from 28 countries convened in Manchester, UK on Saturday March 1st for the first womENcourage celebration of women in computing.
Fresh from a BBC Radio interview about the event, Dr. Eva Navarro Lopez on the ACM-W Europe committee delivered the opening speech which reflected the international nature of the audience.
"Welcome... bienvenidos, bienvenidas, benvinguts, ً سھلاَ وًأھلا(ahlan wa sahlan), marhaba, ( خوش آمديد khosh amadid ), k αλώς ήρθατε ( ka los orisate), hoşgeldiniz, bienvenue, bem-vindo, benvenuto, Гизер Наталья (dabro pazhalavat), bun venit, pro-she, valkommen, willkommen. "
Sit with me - Red Chair
"Sometimes you have to sit to take a stand."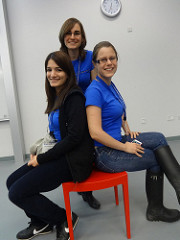 Red Chair is a symbolic action, designed by sitwithme.org, to recognize the value of women in computing and IT. The campaign aims to invite women in technology to validate and recognize the important role they play in creating the future by taking a small but symbolic action: sit in a red chair and share your story. On the 1st of March, 2014, during ACM-W Europe's First womENcourage event, womENcouragers had an opportunity to sit on the Red Chair and share their stories to take a stand!
For more pictures:https://www.flickr.com/photos/sitwithme/sets/72157643072077783/
Videos of womENcourage speakers online
You can now view the videos of womENcourage speakers is now available at womencourage.acm.org.
Tune in to watch the inspiring talks from Wendy Hall, University of Southampton, Carole Goble, the University of Manchester and Yasemin Altun, Google Research.
Save the Date - 18-29 August 2014 Informatica Feminale
Informatica Feminale - the 17th international summer university for women students and professionals in computing will be organized by University of Bremen in Germany from 18-29 August 2014. Every year Informatica Feminale offers compact teachings in computer science for women students of all types of universities and colleges as well as for women IT professionals interested in further training.
You will experience two weeks of studies, earn certificates and credit points, and establish a network with women having manifold backgrounds in a friendly and stimulating environment at the University of Bremen. Courses will be taught in English and German.
Registration will start from May.
More on www.informatica-feminale.de/en/
Contact Details
Facebook ACM-W Europe - https://www.facebook.com/acmweurope
LinkedIn Group ACM-W Europe - http://lnkd.in/bNrfr7V
Twitter: #ACMWomENcourage
Join and like us today! Let's make a larger community!